Greeting by the chairman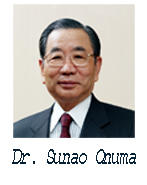 More than 70% of the university students in Japan are learning at private colleges and universities which have been in the process of reform to become more responsive to the development of our era and to the new requirements of our diversified society.
About 60% of the private universities in Japan are members of the Association of Private Universities of Japan. The Association has been executing nation-wide projects in mutual alliances and cooperations among its member unversities since its establishment in 1946. Its purpose has consistently been to contribute to the development of our country. The Association has also been conducting regional activities which are implemented by our seven local divisions and coordinating committees.
While the reason of existence of universities has been questioned, knowledge and techniques acquired through higher education are demanded in many situations of our daily life. Our member universities perceived their significant mission and responsibilities and are making efforts, based on our principle of scientific advance, to develop educated people who have intellectual, technical, sensitive and personal capabilities altogether.
In the present millenium, our member private universities committed to the higher education in Japan understand the prevailing importance of the private education with the respect for individuality and are determined to advance towards achievement of the responsibilities of private universities with our spirit of originality and ingenuity and of proactive recognition of our age.